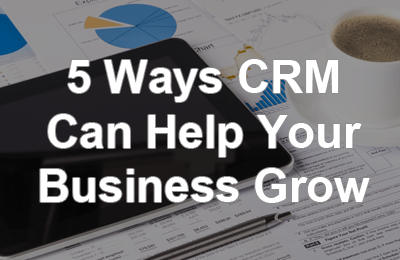 Business Growth with Sage CRM
Customer Relationship Management Systems (CRM) can produce a return on investment within the first year of being implemented with almost guaranteed business growth.
Typically, CRM systems are implemented to manage customer interactions and provide a central repository to house all customer information. That way not just one person holds the knowledge or history of your business dealings with any one customer. CRM also bridges the communication gap between departments by breaking down the barriers that naturally exist from daily business operations. Marketing attracts new customers, sales teams sell, and customer service teams field issues and requests from customers.
The nature of most departments keeps information restricted to one job role without much information sharing, and to no fault of any one person or department. It's what naturally occurs even with frequent meetings – sales may not be aware of what the marketing strategy is, marketing might not stay tuned into the sales pipeline, and customer service is hyper focused on keeping customers satisfied. A CRM creates an environment that promotes information sharing and (when desired) collaboration across departments.
Being able to step back and see the big picture of what is going on with any one customer that the employee is dealing with empowers them to do more. To create an experience for a customer. Imagine a sales manager calling in regard to a sale, but inquiring on the status of an open issue to see what else they might be able to do to move that issue to a resolution.
Using Sage CRM for Business Growth
Malik, Inc. uses Sage CRM every day to effectively manage its business relationships across all departments. We focus on Sage CRM and implementing it for our customers due to the limitless flexibility the software provides our firm. Regardless of if we want to monitor customer interactions, track and manage vendors, or digitize any process from our organization – Sage CRM provides us the flexibility and the scalability we need to make that happen. The amount of time saved on a daily basis simply by automating the sales cycle has created a 60% reduction in the time it takes to move a potential sale from being a proposal to closing with follow ups. Our customer service issues not only are logged in a timely fashion, but Sage CRM allows us to also build a knowledgebase that empowers our service reps to quickly resolve issues.
The Benefits
What are some benefits that your organization can expect to see when investing in a solution like Sage CRM?
(These apply to any organization across any industry.)
5 Benefits of CRM
ONE – 40% increase in productivity – through the automation of processes and elimination of mundane and systematic tasks employees perform daily, organizations can expect to see a productivity boost from each department that uses the CRM system.
TWO – 60% increase in efficiency – leveraging the CRM to be a central storage location for marketing materials, document templates, and digital documents that would otherwise be stored across an organization's network (employee workstations, servers, etc.) allows all employees to be more efficient in locating what they need – quickly.
THREE – 25% increase in customer satisfaction – utilizing a CRM to track, trend and identify root causes of issues enables customer service (and sales/account managers) to comprehensively resolve more requests on the first contact.
FOUR – 30% quicker customer service issue resolution – creating a knowledgebase for common issues and making it available to all creates a culture that breeds a complete dedication to the customer. Employees across the organization will have the ability to quickly locate a resolution to a problem and implement the documented fix in a timely and efficient manner.
FIVE – 20% increase in sales/business growth – providing sales with better customer information allows them to ask better questions which in turn creates more cross-selling and upselling opportunities.
If those figures weren't enough to inspire action, Gartner's is reporting that the CRM marketplace will reach $32B in sales just for sales figures – a 40% increase from what was invested in CRM systems in 2015 and 30% increase seen in 2016.
With more and more businesses taking advantage of CRM systems, the business trend is quickly becoming that businesses that have a CRM are consistently outperforming those that still rely on spreadsheets, Access databases, and paper to perform day to day operations.
About the Author
Basil Malik is a Sage CRM certified consultant with dozens of CRM implementations under his belt across all industries. Basil (or "Baz" for short) takes the time to thoroughly understand each client's current business operations in order to effectively map out the needed and most efficient path needed to take in order for his clients to arrive at the desired end goal. When he's not consulting, Baz spends his free time with his fiancé Rachel, their dog Charlie, and four cats (Tyson, Boots, Toulouse, and Rogue) on many hysterical misadventures. Contact Baz through his website, www.malik-inc.com or on LinkedIn.