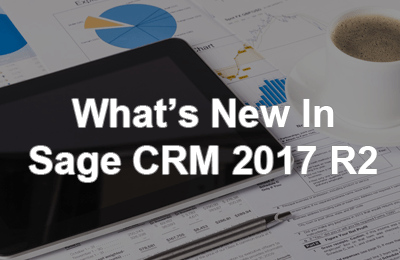 What's New In Sage CRM 2017 R2
Sage has consistently delivered exciting new feature changes – both big and small. This time around the changes are perceptively simple; however,
the actual value is more considerable.
Sage CRM 2017 R2 – Feature Changes
The short and skinny of Sage CRM 2017 R2 can be summed up in the below screenshot from the webinar: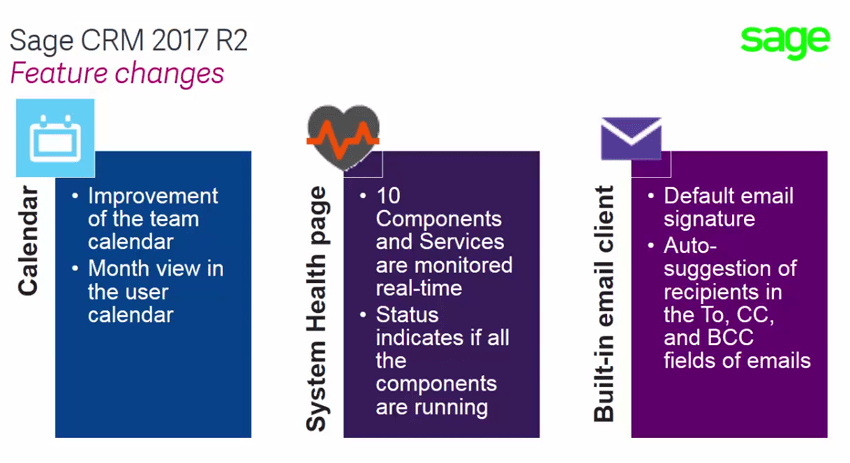 Again, this is a short list that seems very simple, but has many implications.
Team Calendar

New "Timeline" view introduced to the Team calendar.
User defined colors displayed in both Timline and standard day, week, work week, and month modes.

System Health Page

Enables System Administrators and Sage Business Partners to be more agile in identifying the root cause of key Sage CRM components not working properly.
Displays status of each of the 10 components displayed in "real time" – which one can only assume means "real time" based on when the screen was loaded. Not that the screen itself will automatically refresh to indicate a change in status.

E-mail Changes

Automatic suggestion of recipients. This will cut down on guesswork or having to navigate back to the intended recipient to locate his/her email address.
User Default E-mail Signature will enable users to quickly create and assign a new e-mail signature.
Sage CRM 2017 R2 – Calendar Changes
The changes to the Calendar are again very minute compared to what was done in Sage CRM 2017 R1. If you recall, 2017 R1 was the release where Sage CRM was introduced to a modern calendar. This time around, Sage has introduced a couple of nifty features that allow the calendar to be viewed in a more unique way.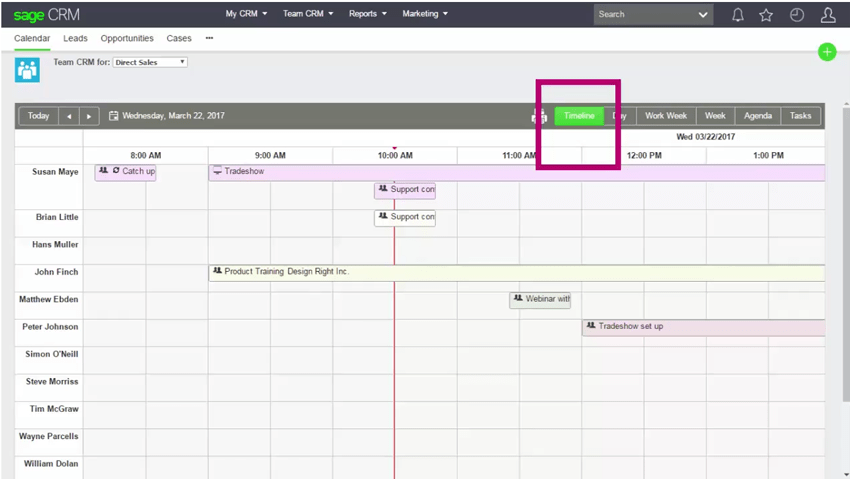 Notice the new button of "Timeline" at the top as well as the unique user colors in the calendar's content. Again, subtle, but makes a big impact from a readability standpoint. Meanwhile the different colors become especially helpful when trying to quickly assess team member availability.
Sage CRM 2017 R2 – System Health Page
Sage CRM system administrators – rejoice!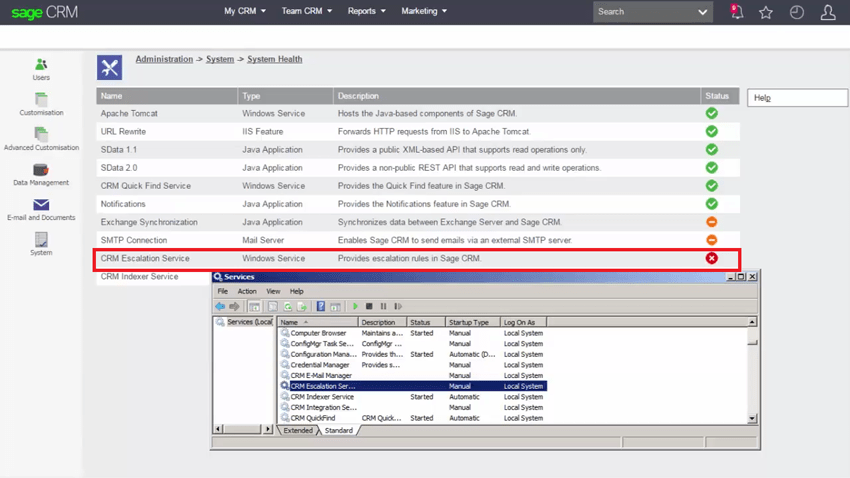 This is one tool that will help diagnose issues with a Sage CRM system quicker. No more fumbling around with log files, system errors or knowledgebases to diagnose the root cause. From the above screen shot, there is a list of about 10 key Sage CRM components and the current status. If any one of them need immediate attention, they'll flip to a red "x" (also indicated above).
Now – does this offer a one stop shop to help fix every problem that can come up? No. But it's a tremendous start to create some self sufficiency among system administrators. With the drastic changes to the user interface in 7.3 SP3, 2017 R1 and now 2017 R2, it lends considerable credibility to Sage investing heavily in Sage CRM. For now, Sage CRM's user base can enjoy a helping hand when it comes to troubleshooting the various components quickly.
Sage CRM 2017 R2 – E-mail Changes
Everyone gets excited when changes to the e-mail client happen – and for good reason.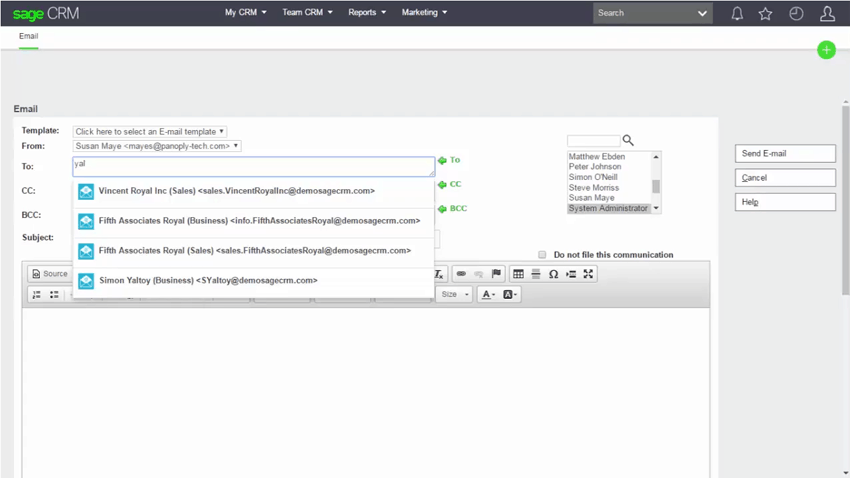 Shown above is the new ability to automatically look up an e-mail address in Sage CRM. Simply start typing and viola – it begins attempting to match based on the input value. "Why does that even matter?" Well for starters, it removes the necessity to navigate to a point in the system where the e-mail exists to easily populate the "To" field of an e-mail. Simply click "New E-mail" and this feature enables the easy matching for the user. Very handy.
This next part will likely inspire a head tilt from some, but be an obvious value to others.
Through the "Preferences" tab of "My CRM", users can use the proper merge fields to create their very own e-mail signature. This of course must be allowed by the System Administrator; however, it's a new possibility.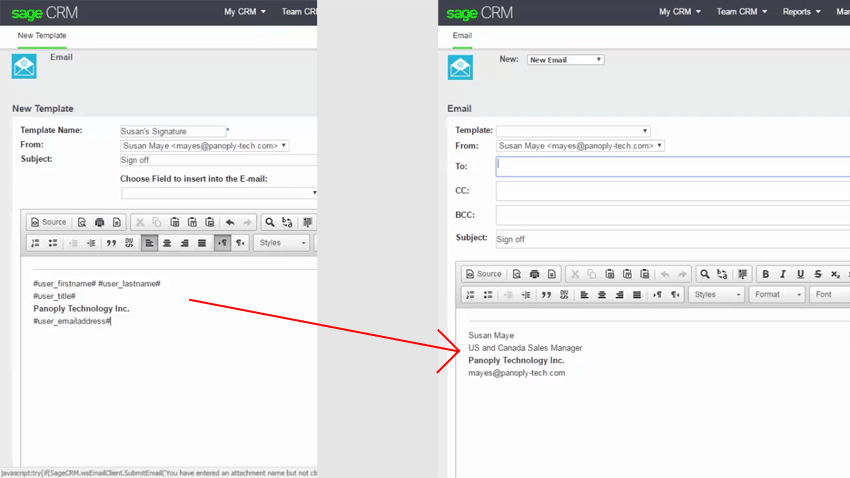 Plainly speaking – this will likely cause a lot of debate on whether this should even be allowed. The idea of a CRM is to create standards and consistency. This introduces an element of disruption in an otherwise guided world. So with this additional feature comes discussion that will need to take place to identify whether or not it even makes sense for an organization to even allow this feature.
Sage CRM 2017 R2 – Supported Software
From a feature perspective, everything before this section covers just about the high points of what this Sage Business Partner feels are the big highlights. On another note, supported software is kind of important but just not as fun. The following two slides… well… there's really no summary or opinion required.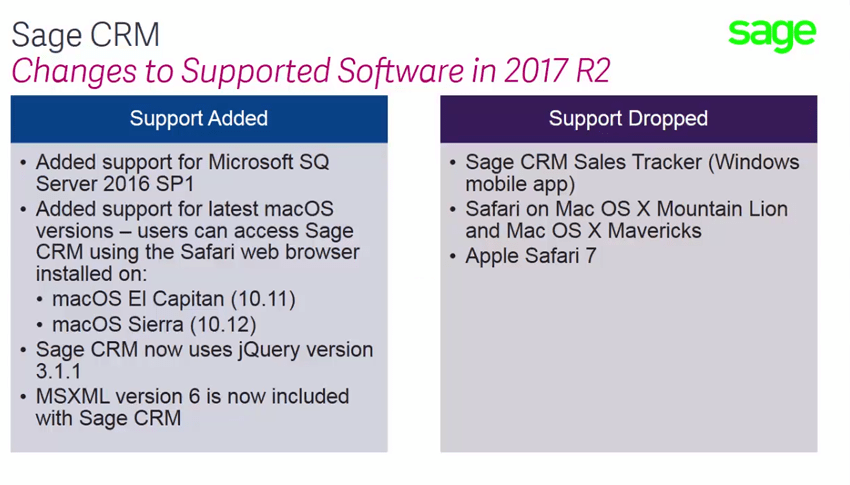 Really the main highlights are the addition of support for Microsoft SQL Server 2016 R1 and updates/included support to jQuery 3.1.1 and MSXML 6. The following slide was mentioned as well, but these were changes made in the 2017 R1 release.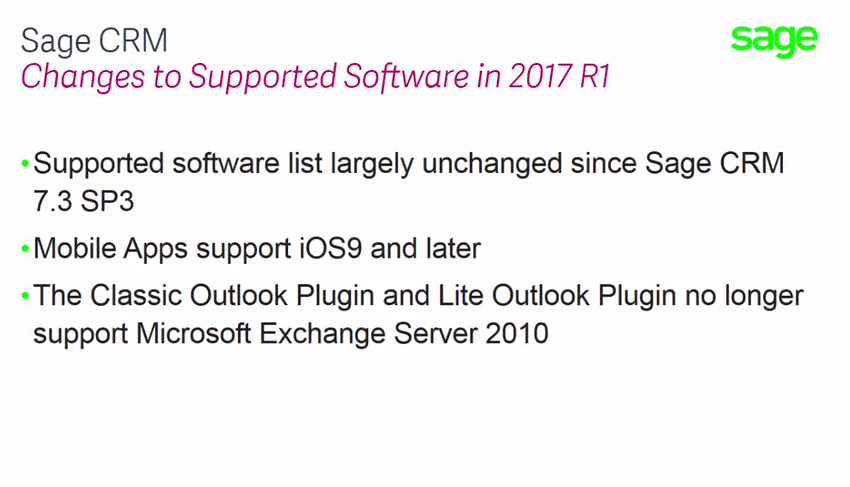 Sage CRM 2017 R2 – Miscellaneous
Not every bit of info from the new release really has a home, and discussion of bug fixes are among the outcasts from the spotlight. So just a quick recap on these – Sage has address or fixed a total of 99 reported issues. The biggest curiosity from this long list of issues is the Quick Find.
0-169023-QA | Install / Upgrade | Quick Find didn't work. | This issue is fixed.
Does this include fixing the bug for integrated environments? Or just the Standalone Sage CRM product? To be continued. For a full list, access the Sage 2017 R2 Release Notes on the Sage CRM Community.
Acknowledgements
Sage CRM 2017 R2 – What's New credit goes to Jeff Richards of Sage Software. Jeff is the head of the Sage CRM Training Program, and provides advanced training to Sage Business Partners. Thankfully he demonstrated everything you see in the article in a Business Partner and Customer webinar which was held on Friday, April 7th, 2017 at 10:00am CST. The same webinar will be hosted again next Friday, April 21st, 2017 at 5:15am Central Standard Time (Chicago, IL, USA).
To register for the upcoming webinar from Jeff, please click here. Now – 5:15am for me isn't a big deal, but for most… that's a bit early. Not to worry – Jeff has also published the contents above in a 22-minute video here.