Sage CRM Overview
Customer Relationship Management (or "CRM" for short) software is truly becoming a revolutionary approach to doing business. Sage CRM is no different, and as far as we've seen it is by far the most adaptable to businesses from any market segment.
Some of the most overlooked concepts when deploying software are user experience, adaptability, and scalability.
CRM and User Experience
"User Experience" refers to how employees or users of the system interact with the software. How many clicks does it take to get when they want to go, and how long will they have to wait to get there? User Experience (or "UX" for short) is crucial to the success of a CRM implementation. Easy navigation, a rich feature set, and overall visual appeal or readability all come into play when discussing the user experience.
Some of the primary features that Sage has implemented to focus on the User Experience and provide the biggest impact:
From the look and feel to what all can be done on the back end, Sage and its development staff haven't skimped on loading the system chock full of user experience goodness.
Integrations to Other Software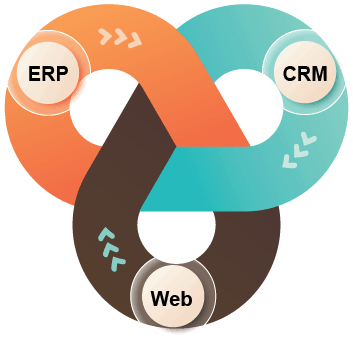 Being able to tie directly into other software systems is also crucial to the success of a CRM system. The more employees can live inside of a software system – the happier they tend to be. Sage has provided several means of integrating Sage CRM with other commonly used business applications to create a seamless user experience.
The caveat to that last statement is that it has to be done correctly. Not all customers are the same, and neither are Sage's business partners. Knowing all of the base Sage integrations provided out of the box is key, but making them work is a different story. Sage provides basic integrations to…
These base integrations offer a robust out-of-the-box suite of solutions, but it doesn't stop there. Sage Software's community of professionals is constantly developing add-ins and third party components to further extend Sage CRM. Regardless of whether it's integrating with an ERP system like Sage 100 or an online application like Twitter, Sage CRM offers a means to do so.
The variables that come into play when creating a highly integrated environment are not only knowing how to integrate these various systems, but also the consultative approach. Having the right Sage Business Partner to guide each organization through each of these is critical for success. Simply knowing how it's done doesn't mean that it will be implemented satisfactorily.